Back to all posts
Posted on
JAWS CRUSIN FOR CHRISTMAS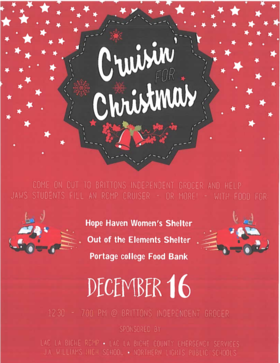 After a COVID break in 2020, it is with great anticipation that we welcome the revival of JAWS Cruisin' for Christmas 2021. A huge thank you to our students and staff (Mr. Coutney & Mrs. Dribnenki) who have taken the lead, along with all of our community partners for this wonderful community event. The event will take place at Britton's Independent Grocers on December 16.
Partners:
Britton's Independent Grocers
JA Williams High School (Students and Staff)
LLB RCMP
LLB Protective Services
NLPS
We will be accepting both Food & Cash Donations and all proceeds will be donated to the following community groups:
- Out of The Elements Shelter
- Hope Haven Women's Shelter
- Portage College Food Bank
We welcome the help and support of our partners to make this another successful event. Thanks once again to Bill and Kalan Britton for their support of our school and this fundraiser.