Back to all posts
Posted on
JAWS Drama presents - Captain Bree and Her Lady Pirates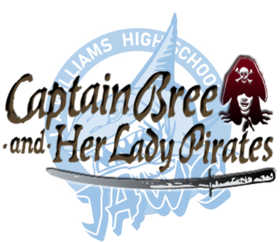 Captain Bree and her Lady pirates are ready to entertain you. Shows take place this week and you can still access tickets to the best show in town! Shows run at 7 pm on Tuesday Dec 13th, Thursday Dec. 15th  and Friday Dec. 16th.  
Click HERE to Purchase tickets
Here is a synopsis of the musical:
Shiver your timbers with this swashbuckling musical comedy!  Captain Jennings' crew jumps ship, leaving him with only a handful of prisoners and Fergus, a sailor who can't swim, to protect his wealthy passengers from a pirate attack.  Captain Bree and her lady pirates demand gold in exchange for the lives of the pretentious Madam Prescot; her nephew Samuel, who is masquerading as a girl to avoid becoming shark bait; and her niece Julia, bursting with desire to join the lady pirates — much to her aunt's dismay!  While waiting for a response from the English, the pirates entertain themselves by teaching Julia the ropes of pirating, such as threatening their prisoners with the plank.  With catchy sea shanties and other rousing musical numbers, your audience will be humming along all the way to the exciting surprise ending!