Back to all posts
Posted on
WELCOME BACK...soon!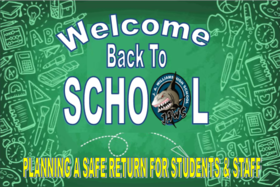 We hope everyone is having a fabulous summer and has had time to enjoy the reopening of our province and our lives.  Summer isn't over yet but we wanted to throw out a memo to let you know some of our upcoming dates and plans for starting up the school year.
To all of our grade 9 families, welcome.  We know you will love your time at JAWS and look forward to our journey together.  Throughout the school year we generally send out a memo like this one weekly, so watch your email.
Like all of you, we look forward to the day when things return to normal and we no longer have to worry about Covid.  Things have much improved since this time last year, but we are not totally out of the woods yet and therefore will still have some safety precautions and protocols in place. Northern Lights School Division is still in the process of reviewing the most recent  Alberta Education and Alberta Health announcements and will provide more information to families next week on what the return to school looks like in NLPS.  Nonetheless we still look forward to the more regular classes and activities (performances, field trips, sport competitions and celebratory events) that this year will allow for. 
School buildings are still closed, but our staff will be returning during the final weeks in August to prepare for what we hope will be a fabulous 2021-22 school year.  School starts for students on Wednesday, September 1st.  This will be the first day of classes for the semester (grade 9) / quarter (grade 10-12). 

Draft schedules have been created already, but are not yet completely finalized.  There have been a few changes over the summer and we will have to make some adjustments to our schedule to reflect those changes. Our goal remains to ensure that students will have access to all the high school courses they need in a safe and caring environment.  We plan to send out a message when the final draft of the schedules are complete and then will set up times for schedule changes.  Again we will inform everyone of that date through School Messenger.  At this time we are planning on having no in person schedule changes, all will be requested via email.  Please make sure to request the changes on that set date so emails do not get overlooked if they are sent in too early.  We will send a message with full instructions when we know more.
We are hearing questions about school supply lists and we wanted to offer some clarity.  We are reevaluating  the list on the website and will be amending it appropriately.  We ask  that you come to school prepared with a binder, lined paper, pencils and pens on the first day of school.  That first day teachers will let you know if more supplies are needed for that particular course.  We find this will offer a more accurate list of what is needed and parents won't be buying unnecessary supplies.  
School Supply List - https://www.jawilliamsschool.ca/school-supply-lists
More information will be provided to families before the first day of classes on Wednesday, Sept. 1, 2021.
Please stay tuned for updates on our website, Facebook and emails through School Messenger.   Also make sure to check out Northern Lights Public Schools website for answers to many of your questions. 
We look forward to safely being back at school in September and will continue to update you in the weeks ahead.
Thanks and Take Care!
Samear Abougouche