Back to all posts
Posted on
Parent Teacher Interviews - March 10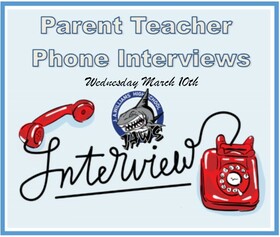 Parent Teacher Interviews for midpoint of Quarter 3
Dear Parents & Guardians,
As you are aware J. A. Williams High School is operating on a quarterly schedule this year with quarter 3 running from February 1st to April 19th.   It is hard to believe but we are nearing the midpoint of our third quarter and it is time for us to schedule our parent teacher interviews. 
The Parent Teacher Interview date will take place on Wed. March 10th between 4:00 and 7:00 pm.
Unfortunately, the continued COVID-19 health emergency means these interviews can not be conducted in person this term.   We are committed to parents having the opportunity to discuss their child's progress with teachers, but will need to do so in a different format similar to our interviews in October.
To maximize community safety, Northern Lights Public Schools will continue to conduct Parent/Teacher interviews by telephone.
To organize these parent/teacher discussions, parents are asked to Email the teachers they wish to contact, providing a contact number and suggesting a time they are available for a call between 4:00 pm and 7:00 pm on Wed. March 10th.   Teachers will send a return Email confirming this time or will negotiate another time by Email.   Due to the large number of families that many of our teachers will need to contact; these phone consultations should have a maximum duration of 10 minutes.  If further discussion is needed parents can make arrangements to have a conversation at a later date.
Contact Emails for our teachers staff can be found on the school's website using the Contact/Contact Us tab: https://www.jawilliamsschool.ca/contact
Report Card information will be available through the PowerSchool parent Portal.  Please click on the Q3 link to access the quarter 3 marks, attendance as well as report card comments.   A copy of the report card will also be printed off and sent home with your child Tuesday March 9th. 
To access this information, you will need an account in PowerSchool. 
Open the internet browser on your computer. 
Type http://powerschool.nlsd.ab.ca/publicinto the address bar. The link is also available on the school website-Quick Links (at bottom of page - PowerSchool Parent Portal). 
Click on Create Account - Create a parent/guardian account that allows you to view all of your students with one login account. Enter the information required in each of the fields. Create a username and password that you want to use when you log on to Powerschool. 
You will then need to enter your child's full name and your Access ID and Access Password.
(If you do not have this information please email the school jaws@nlsd.ab.ca and we will send you another copy of the information). 
You will be informed if the account setup is successful. Log in with your newly created username/password and view the information. Remember to log off when you are finished. 
Setup an Account already? You only create the account once. Once the account is created, use your Username and Password to log into PowerSchool.  
Either you or your child may track academic progress from any location that has internet access. Please keep your passwords confidential so only you can access the information. The Grades and Attendance tab will allow you to check assignments and scores by clicking on the blue percentage across from a class.  
If you have any questions regarding the use of PowerSchool please contact the school office at (780) 623-4271 or email us at jaws@nlsd.ab.ca 
We are again very disappointed not to be able to advise you in person about your student's progress but we are committed to providing you and your student with as much information as possible to enable them to improve their educational outcomes.
Our school staff look forward to providing you with that information during our interview night.