Back to all posts
Posted on
HeadStrong Conference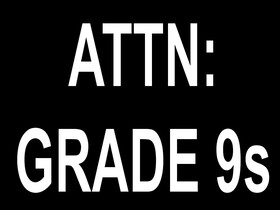 PERMISSION FORM AND INFORMATION
Grade 9 students are invited to attend the Headstrong Summit at Portage College on
Thursday November 14th
which is a conference supporting the mental health and wellness of youth.  All Grade 8 and 9 students in the Lac La Biche area have been invited, and should a parent choose to have their child attend, they will be excused from classes and transported from JAWS to Portage College. 
There is no cost to attend and lunch will be provided.  There will be a keynote speaker as well as breakout sessions to choose from.  Permission slips were sent home through block 4 grade 9 teachers and can be found on the JAWS Facebook page and school website. 
While it is not mandatory, it may result in reduced numbers in attendance and require teachers to modify their plans based on attendance on that day. 
Contact Ms. Patenaude should you have any questions. 
Thank you!  Have a terrific day!