Back to all posts
Posted on
Grad 2020 Update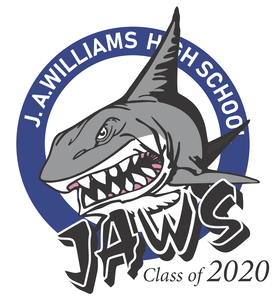 This is a message to the JAWS graduating class of 2020: We hope you've noticed the Grad 2020 banners on light posts throughout Lac La Biche!  With recent restriction changes from AHS, we are pleased to announce the following additions to our celebrations:
In addition to the previously announced Virtual Convocation Ceremony which will be streamed at 5pm on Friday June 26, JAWS staff will also host an in-person drive-thru awarding of diplomas and certificates next week!  On Monday and Tuesday of next week, graduates will be asked to arrive at the school during their designated time (see below) to receive their diplomas, as well as gifts including their grad gowns with cap and tassel.  Out of an abundance of caution, we will be strictly observing the following precautions:
-Staff will maintain safe physical distancing from students and family members at all times.
-Follow the signage to the queue along the bus lane entrance; staff will be there to direct traffic.  See posted signage in the Bold Center parking lot entrance adjacent to Student Parking.  The bus lane is the right turn immediately upon entrance to the parking lot.
-Students are restricted to one vehicle per family in the bus lane queue.
-Vehicles must follow the route through the bus lane, and follow directions of staff in moving through the queue.
-Gift items will be boxed several days in advance for your family's safety; when your turn arrives, your box of graduate gifts will be placed by staff (with PPE) on a table in the front of the school's entrance, at which point you can exit the vehicle, retrieve the items, and be congratulated by school staff. 
-Students must arrive within the allotted times below; graduates will be given their gifts in order of arrival, and ushered through the queue by staff along the bus lane, where you are asked to park when awaiting your turn.
- Once your turn is finished, vehicles should continue on to allow the next graduate to receive their gifts in a timely fashion.
-Students and families are asked not to gather in the school or Bold Center parking lot prior to or following their pick-up of gift items.  
-As we are still restricted to 100 people (with appropriate physical distancing) for outdoor gatherings, the formal speeches and convocation portion of the ceremony will remain virtual to be streamed on Friday June 26 at 5pm following the events planned by the graduation parent committee.  Contact Shantelle Manca at rsmanca@yahoo.ca for details about those plans.
-All guests are encouraged to wear masks; any guests or graduates who are symptomatic are required by Stage 2 AHS Public Health Measures to be self-isolating and should not be in attendance.
-We understand this is short-notice; any graduate unable to attend during their allotted time should contact the school at 780 623 4271 to set up a time on an alternate date so we can have your gifts ready.
-More information on Public Health Measure for Stage 2 can be found here: https://open.alberta.ca/dataset/61f54c09-d6d7-4a12-a5be-0bc663a02c31/resource/e158ff14-eab7-4f24-94f4-b67c3639d0d5/download/covid-19-alberta-relaunch-strategy-2020-06.pdf
-Your safety is of utmost importance to us.  The school cannot condone any celebrations involving intoxicants and require all graduates and their families to be compliant with this; LLB County Peace Officers and RCMP have been invited, and may need to become involved if there arises any suspicion of intoxicants.
One vehicle with graduate and family should enter the queue in the bus lane, based on last name.  The times are as follows:
------------------------------------------------------------------------------------
Last name A through B:  Monday June 22 from 10:00am-1030am
Last name C through E:  Monday June 22 from 11:30am-12noon
Last name F through H:  Monday June 22 from 1:00pm-1:30pm
------------------------------------------------------------------------------------
Last name J through M:  Tuesday June 23 from 10:00am – 10:30am
Last Name N through S:  Tuesday June 23 from 11:30am- 12noon
Last name T through Z:  Tuesday June 23 from 1:00pm – 1:30pm
Please contact the school if you have any questions.  Thank you!