Back to all posts
Posted on
Computer Coding and Robotics for High School - Portage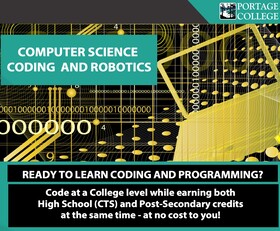 Portage College is now offering the following Computer Science, Coding and Robotics courses. In these courses you will learn coding and robotics. Students will be equipped with an understanding of how basic computer programs were made.
CSE1110 Structured Programming I
CSE1120 Structured Programming II
CSE1240 Robotics Programming I
CSE2110 Procedural Programming I
CSE2120 Data Structures I
CSE2240 Robotics Programming II
Design algorithms
Write code of your own
Experiment with Micro:bit micro controller
Construct and program a robot vehicle
Technology provided
Entrance requirement completion of Math and English at the 20 level or currently enrolled in these courses.
FREE tuition, textbooks and micro:bit starter kit!
Course start March 2021.
Ask Mrs.Dribnenki (lisa.dribnenki@nlsd.ab.ca) how to apply for this Dual Credit course - today.