Back to all posts
Posted on
Discount Cards Fundraiser - Support Our Teams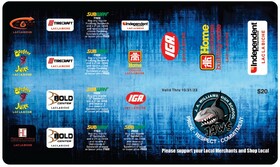 Support our School and Save!  Support our students by purchasing a Lac La Biche Discount card and save money while shopping at local businesses doing so. 
Our Athletics program is conducting a fundraiser that helps bring the costs down for our students and at the same time offers participants huge savings at our local business.    
Purchase a Gold Card for only $20 and receive discounts from local merchants that are good for the whole year.  See Mr. Prybylski to purchase cards!  
Or Purchase through SchoolCashOnline and pick up the discount cards at the front desk.  
https://nlsd.schoolcashonline.com/Fee/Details/29145/78/False/True
Receive a $10 gift card when you spend $100 or more at:
Home Hardware
Independent Grocers
IGA
SUBWAY
Buy a foot long sub and a drink and get second sub free
Tire Craft
FREE two wheel
alignment with
purchase of 4 new tires 1 TIME USE ONLY, Coupon must be turned into cashier. Cannot
be combined with other offers
or used on gift card purchases. Valid at Lac La Biche location only. Expiry Oc131, 2023

TIRECRAFT
LAC LABICHE
FREE Tire rotation with
purchase of any
regular priced fully
synthetic oil change
1 TIME USE ONLY, Coupon must be turned into cashier. Cannot
be combined with other offers
or used on gift card purchases. Valid at Lac La Biche location only. Expiry Oct 31, 2023

BOLD CENTER
LAC LABICHE
50%OFF
drop-in day pass
(No cash Value) Not valid with any other sale or promotions. ONE TIME USE ONLY·
Must be handed into cashier. Lac La Biche location only. Expiry Oct 31, 2023

BOLD CENTER
LAC LABICHE
2 for 1 Drop-In
Day Pass
(Two people must be present/same day use)
(No cash Value) Not valid wi1h any other sale or promotions. ONE TIME USE ONLY -
must be handed into cashier. Lac La Biche location only. Expiry Oct 31, 2023
A&W
FREE Teenburger.
No Purchase Necessary!! 1 TIME USE ONLY, coupon must be turned into cashier. Not Valid
w/other Specials & Promos. 1 per customer, per day. Valid at Lac La Biche, Strathmore, Three Hills, Sylvan Lake, Blackfalds, Rimby, Lacombe, Ponoka, Westlock locations only. Valid Until Oct 31, 2023

BOOSTER JUICE
LACLABICHE
FREE Snack sized
smoothie with purchase
of any wrap or panini
1 TIME USE ONLY, Coupon must
be turned into cashier, Cannot be combined with other offers or specials. Valid at Lac La Biche location only. Expiry Oct 31, 2023

BOOSTER JUICE
LAC LABICHE
FREE Snack sized
smoothie with purchase
of any wrap or panini
1 TIME USE ONLY, Coupon must
be turned into cashier, cannot be combined with other offers or specials. Valid at lac La Biche location only. Expiry Oct 31, 2023

HIGHPOINT
CLOTHING
LAC LA BICHE
$20 OFF purchases
$150 or more
(Before lax) Not valid with any other sale or promotions1 TIME USE
ONLY, Must be handed into cashier. Excluding purchase of gift cards.
Lac La Biche location only.
Expiry Oct 31, 202