Back to all posts
Posted on
Zombie Night - High School Drama Performance - Oct 27, 28 & 29th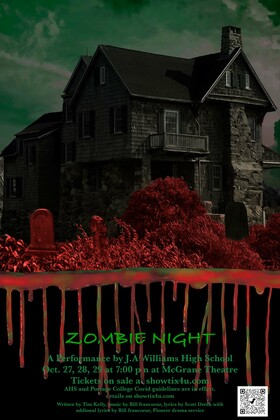 We are thrilled to be back on stage, showcasing our home-grown Lac La Biche performers, in Zombie Night, a unique Halloween musical.  Students have been working daily to perfect the show both on stage and behind the scenes.  Countless hours are being dedicated to polishing their skills and preparing to present the show.
This doo-whopping musical pays great tribute to classic horror flicks like "Night of the Living Dead," "The Return of the Living Dead" and "Cemetery High."  Howie, Louise, Gary and Phoebe are in charge of "Zombie Night," the annual senior class party.  They locate an abandoned farmhouse by an old graveyard, once occupied by the creepy, crawly Dr. Thanatos, who tried to re-animate the dead (gulp!).  Vivian and Anne show up, determined to destroy the party.  (They're sore losers who wanted a sock hop instead.)  Enter a grim farmer who warns the kids that it's dangerous to stay.  We soon discover why — zombies!  While the decorations go up, the zombies shuffle from the graveyard.  Cosmic cannibals!  It's zombies versus students!  
Performances will take place at McGrane Theatre
Oct 27, 28 and 29th at 7:00 pm
Tickets on Sale at showtix4u.com 
https://www.showtix4u.com/event-details/57532
AHS, NLPS and Portage College Covid guidelines are in effect. 
Spectator attendance limited to 1/3 fire capacity
Attendees must be masked and distanced
Assigned Seating is in place
Entrance to the event is restricted,
there are a predetermined number of tickets/seats are
available and assigned.
No rush seating will be allowed.